There has been calls from numerous quarters, for the seizure of properties traced to former governor of Imo State, and Senator representing Orlu zone, Senator Rochas Okorocha and his family members.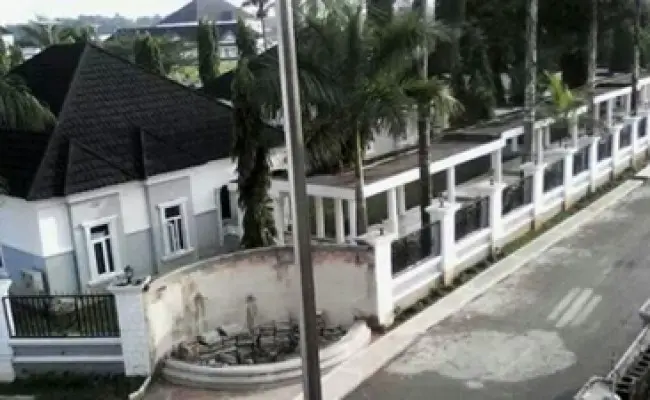 The calls had started coming, even before the seizure of his wife's hotel, a situation that led to Okorocha's arrest, when he tried to force himself into the property.
Even before the former governor's humiliation and arrest, the State Assembly member, representing Owerri-west, Mr. Kanayo Onyemaechi, had called for his arrest, as well as the seizure of several property belonging to the former governor, including the Spibat Estate.
There has been many calls for government, to look into the modalities surrounding how Okorocha acquired the massive estate.
The estate sits on over 20000 square metres of land, and along with numerous houses, which includes Okorocha's palace and his offices, hosts a very large church, massive hall, several blocks of school buildings and hostels, a large football field and much more. The estate spans from Amakohia, Uratta in Owerri North to Mbieri, Mbaitoli.
The estate is so large, that PointBlank News, reported in 2015, the President Buhari had joking called Okorocha a criminal, when he saw the estate. Many believe Buhari meant what he said, and that it was why Buhari never visited Imo throughout Okorocha's tenure, until during the elections, and even then, he told Imo people to vote who they wanted, rather than giving support to Okorocha.
Okorocha is said to have acquired some parts of the massive lands, from a firm called Spibat, which was how the name came about.
After he became governor, Okorocha acquired much larger parts from Umuodu, Mbieri under circumstances that has remained contentious till date.
Some people in Umuodu, believe Okorocha illegally acquired their lands, under the guise of building a school, but converted it to his estate.
As Uzodinma seems determined to recover all Imo property, illegally acquired by the former governor, Imo people are holding their breath, as they wait expectantly for the day bulldozers will roll into Spibat.