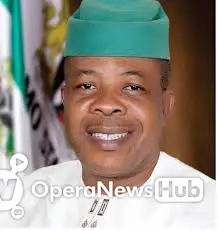 The Peoples Democratic Party, PDP, in Imo State, is not the personal property of former Governor of the State, Hon.Emeka Ihedioha, or any other leader in the party.
A chieftain of the party, Godfrey Anyanwu, who spoke to newsmen in Owerri, said it is wrong for anyone to allude that the PDP in Imo State belongs to any of the leaders of the party, particularly the former Governor.
The defections of some exco members of the party to the APC last week, had given credence to insinuations in some quaters that with their exit from the party, former Governor Emeka Ihedioha is now in sole control of the PDP in Imo State.
Mr. Anyanwu said such assumptions are wrong because the PDP in Imo State is a political party for all, and was not created for Ihedioha alone, or any other leader in the party.
He said Ihedioha alone did not ensure victory for the party at the 2019 elections, stating that it was the collective efforts and sacrifice of party members who put in their toil which contributed to the victory of the party during the elections.
"It is wrong for anyone to say that the PDP belongs to an individual or controlled by an individual. That is uncharitable to say. The party belongs to all true lovers of good governance and democracy in Imo State.
"We have other party leaders who are stakeholders in the PDP. Ihedioha is a great leader whom we admire a lot.He has benefited from the party. He went to the House of Representatives on the platform of the party where he became the Deputy Speaker. He was there for 12 years on the platform of the PDP. It was the PDP platform that he rode on, to become Governor of Imo State in 2019. You can see that he has benefited immensely from the PDP.
"There are other leaders in the party who built and nurtured this party even in the face of turbulence and adversity. They are also stakeholders in the party. One of them is Senator Sam Daddy Anyanwu. He has been in the party since its inception in 1998. No one owns the party. The party is one of the many political parties in the country. Anyone is free to join the party. The PDP belongs to true democrats" Anyanwu said